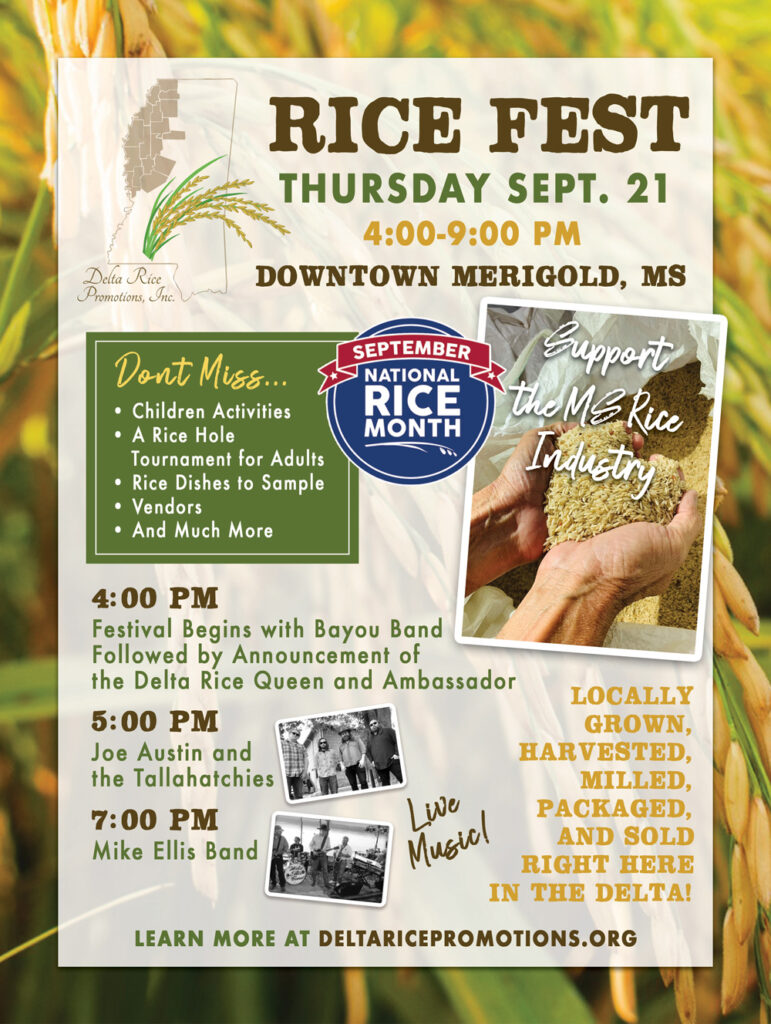 Delta Rice Promotions, Inc. began informally August 1, 1991, when a group of Extension Service clientele and Farm Bureau members from Bolivar County met at the Bolivar County Extension Office to discuss how to celebrate the first ever nationally proclaimed Rice Month to be held in September of that year. This first meeting led to expanding the "Rice Tasting Luncheon" sponsored in past year by the Bolivar County Farm Bureau.
September 13, 1991 became the lucky day. The first ever "National Rice Month" luncheon was a huge success. Each year attendance grew reaching over 500 people in 1993 and 800 in 1995. Currently, crowds average from 1,000 to 1,500. For 30 years, the Annual Rice Tasting Luncheon was held on the third Thursday of September. Now the celebration has moved to a rice festival that is held on the streets of Merigold on the third Thursday of each September. For 33 years, the National Rice Month has been celebrated in Mississippi.
The mission of Delta Rice Promotions, Inc., is exclusively for the promotion of Mississippi and USA produced rice. Activities have included Annual Rice Tasting Luncheons, an awarding winning cookbook "Between the Levees", grocery store promotions, educational programs (including schools) about the nutritional value of rice, the Mississippi Rice Cook-Off, the Think Rice Cook-Off and the Eat Local, Think Rice restaurant contest. In 1995, Delta Rice Promotions, Inc. won the first ever USA Rice Federation Award for the best September Rice Month Promotion. In 1996, Delta Rice Promotions Inc. was presented with the Award of Excellence by the USA Rice Federation for rice promotions in the state and in 2010 USA Rice Federation presented Delta Rice Promotions, Inc. with an award for their 20 years of outstanding achievement in promoting rice and national rice week.